We are an ISO 9001:2008 certified company.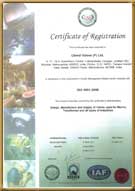 We at OSWAL VALVES PVT. LTD., always strive for the best quality by continually improvising our processes, to ensure complete satisfaction to the customer. To accomplish this task, we have formulated a quality manual, which systematically outlines every activity of our organisation in order to optimise quality.

Our Quality assurance programme is frequently audited to have a periodic analysis of the system's effectiveness and to ensure that all is well on the quality front. We always welcome quality surveillance from our valued customers for further improvements.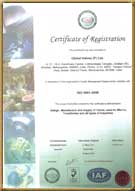 Our General manufacturing standard covers Codes, Design, Material, Construction features, Testing, Finishing and Protection for Dispatch of Valves.

We can assist you in selection of the right valve as per standards for your application. We can use CAD system to ensure quality, performance and precision. We manufacture valves conforming to various national or International manufacturing standards.